Contact us
Address
St Anne's Dental Practice
11 St Anne's Terrace
Lewes
BN7 1RH
Telephone
Email
By Train
Lewes railway station is 10 minutes walk from the surgery.
By Car
We are located opposite St Annes Church on Western Road in Lewes, near East Sussex County Hall. See map below. We do not have parking but you can park in county hall right opposite us- 3 min walk
Address: County Hall, St Anne's Cres, Lewes BN7 1UE. Parking is pay and display (card or coin ) costing 80p per hour.
By Bus
Western Road is also on one of the main bus routes in Lewes, the Pelham Arms bus stop is less than 50 metres from our front door with buses serving Falmer, Brighton, Newick, Wivelsfield, Plumpton and Chailey.

Please note: Due to the location and the grade 2 listed building- we have steps to access the practice

To leave feedback please use the form below.
St Anne's Dental Practice is you local dentist in Lewes providing dental care and advice for the whole family since 1912. This includes preventative dentistry through regular dental check ups and hygienist appointments.

In addition to our family dentistry services, we offer cosmetic, orthodontic, restorative, periodontal and surgical dental treatments. These include Invisalign, fixed orthodontics and dental implants. The team at our dental practice includes five dentists and three hygienists.
We are a private practice with two payment options, "pay as you go" or Denplan."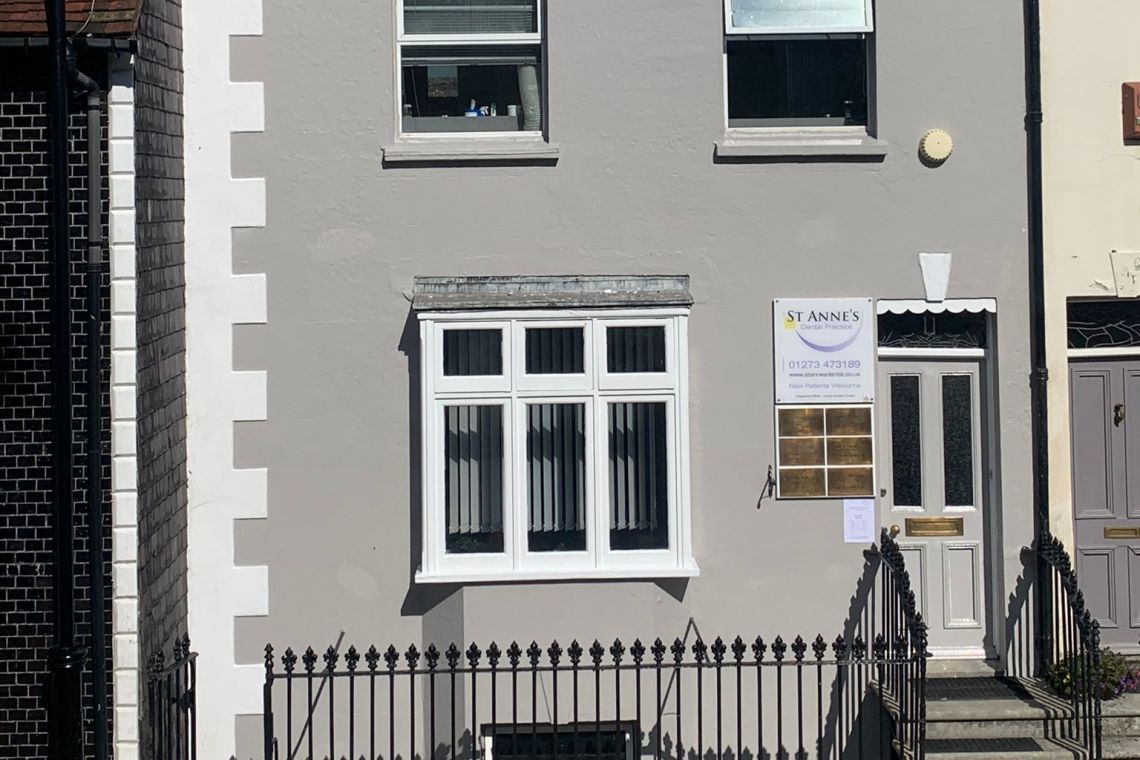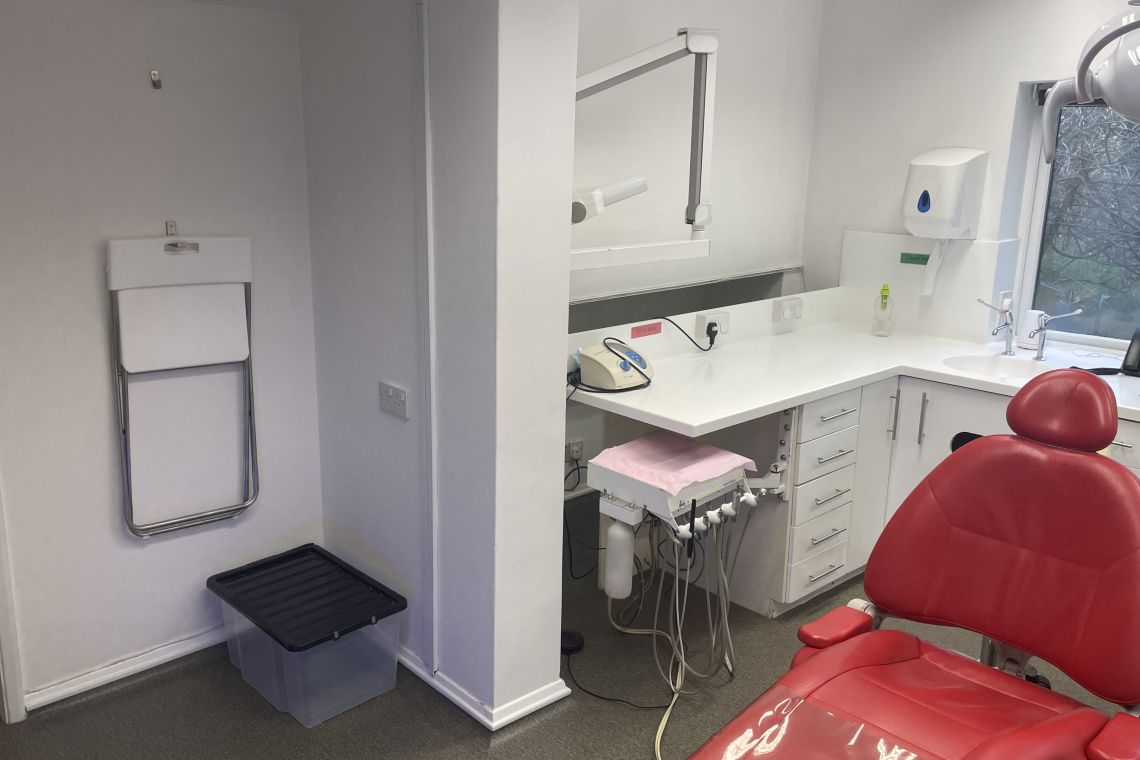 Why choose us?

Multi Award
Winning Five Star
Customer Service

Invisalign
Provider

State Of The
Art Facilities

Leading
Dental Care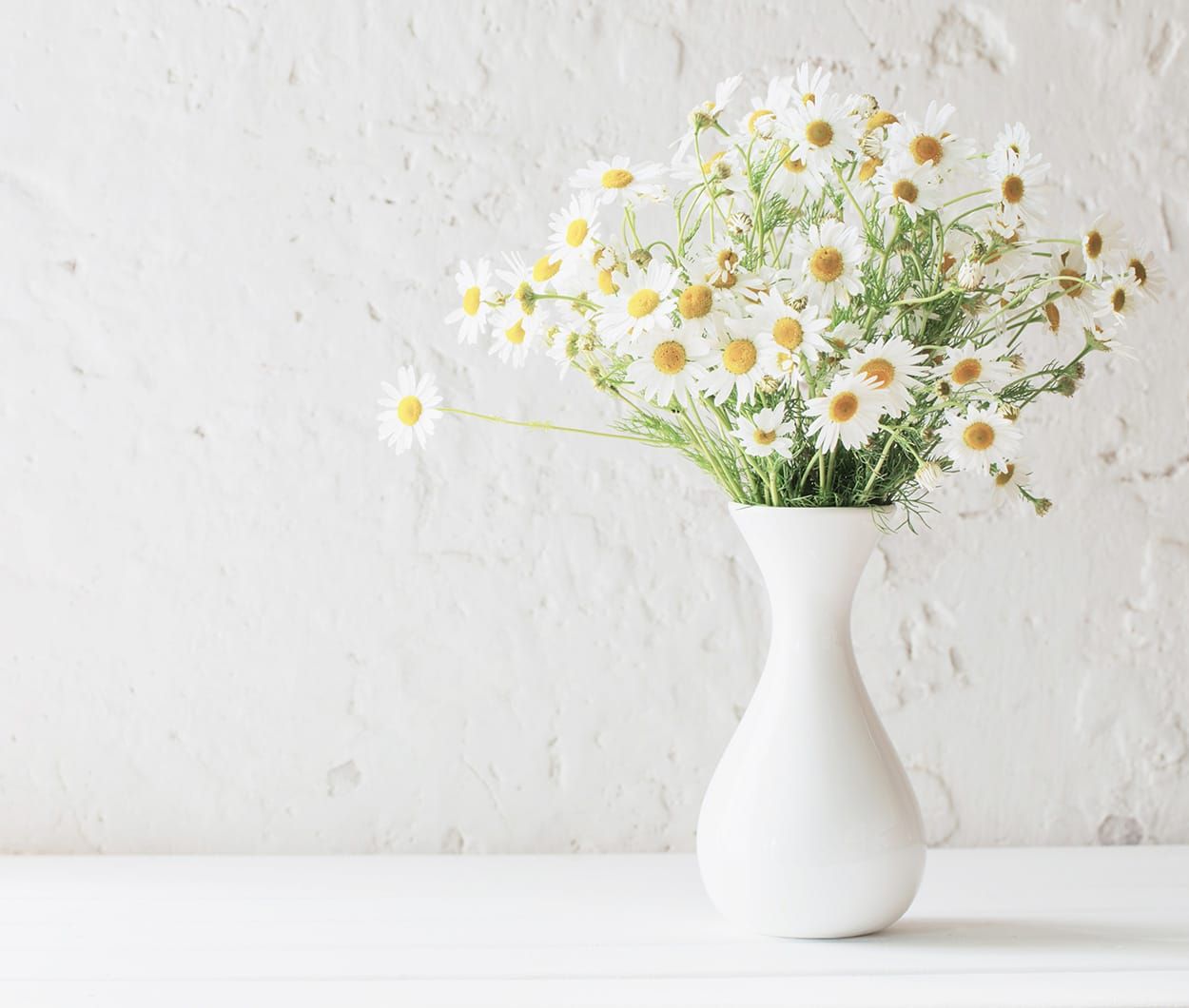 People are talking about us
The biggest complement we receive is when our patients refer their friends and family to St Anne's Dental Practice. In fact, we have built much of our practice on these valued, trusted recommendations over the years. Read our reviews to hear why our patients are recommending us…
Patient reviews
Everything went as planned.
Easy to book at a time that suited. I was seen at the time agreed. I felt well looked after. Easy to book a follow up at a time and date i wanted
Reception good, efficient and clean. Also not too noisy. It was 2 appointments back to back (Hygenist / Dental checkup) and flowed perfectly.
The dentist, Tara, fully explained the procedure and succeeded in putting a very nervous patient at ease. I cannot praise her highly enough.
I felt very condident that my situation had been accurately evaluated, and that my treatment otions were clearly explained.
Hygienist super friendly and helpful and Adam the dentist is fantastic, considering I'm scared of the dentist he and his nurse really put me at ease!
It meet all of my needs and the service was excellent as always
I actually enjoyed my visit & treatment I have never had such kind efficient treatment I was dreading my 1 hour appointment but it was a very nice experience I cannot thank all at st Anne's enough
Hygienist and dental checkup both carried out safely, with no fuss or delays. All staff were very courteous as always.
Such a difference in my experience to previous dentists- they could sense my unease and were very good at explaining everything. I felt for the first time that I had finally found a dentist I want to return to, thank you!
All went well for a routine checkbup
Everything was handled very well and professionally and I felt confident during my visit.
Friendly efficient team. Thorough examination with everything explained to me in detail. Felt very confident and reassured.
Adam was kind and friendly and sorted out my problem quickly and professionally. I was especially grateful that as it was a very small problem, he didn't charge me.
Didn't have to wait too long. Thorough check up including gums and tongue. Didn't try to sell me anything
Dealt with in a highly professional way, efficiently and effective treatment. Put at ease and procedure fully explained. Really nice dentist.
I can see the hygienist & then the dentist in appointments times booked close together ie 8.30am Hygienist & 9.00am Dentist twice a year, booked at each appointment in advance.The dental team are courteous, efficient & professional in their approach & with their dental treatments. I feel safe & confident that I am being managed & look after accordingly.
Plenty of time and attention, as we would expect from our Denplan scheme
Great care shown and very thorough care .
I saw the hygienist and the dentist this week and both were reassuring and professional and expert in their treatment- it was a pleasant experience. Also the receptionist was helpful and charming
Friendly reception staff, promptly seen, thorough hygiene treatment.
As a former nervous patient, I always feel put at ease by clinicians and the reception staff, and am now happy to attend for treatment, thank you St Anne's dentail staff.
Staff are courteous and friendly. Appointments don't feel rushed
Was able to book an appointment at short notice, and didn't have to wait very long in the waiting room. Very lovely hygienist who made my son feel very comfortable.
Was not feeling very 'robust' (on strong anti biotics) .... hygienist listened and gave a gentler than usual treatment.
I have been a patient at St Anne's dental practice for the past 18 years. The treatment I have received during this time has been outstanding
Lively environment, clean and bright with lots of nice touches. Very welcoming, kind receptionist. Amazing dentist and dental nurse, so professional, friendly and skilled. Can't praise them enough.
Both the hygienist and the dentist were friendly and professional, thank you.
Very professional and attentive staff. Friendly and genuinely interested in me and my treatment. I felt very comfortable and not intimidated through out my visit
The dentist was friendly, competent and professional and discussed everything with me.
a professional and pleasant practitioner
Got a really quick appointment, professional and caring service. Trust my clinician, helpful, friendly, have been using this practice since I was a child.
All staff very caring. Premises comfortable and clean. No waiting.
I have been using St Annes for a good time, and Susan Brink is one of the best dentists I have visited. The only annoying thing now is that I have to fill in this survey, so it stays that way.
My front tooth had fallen out and I was in a panic..I went stright to St Annes and was given an appointment in one hours time. I spent the time watching a programme they had on screen about baby animals, it put me in a good mood.
The treatment was quick, efficient and pain free and the team were brilliant - considerate, skilled, inspired a lot of confidence and trust.
The whole process of booking, explanation at every stage of my my treatment could not have been better
I particularly like my personal dentist who is very understanding and helpful with advice.
The whole team were very friendly and the dentist was very professional, I had a long appointment for a root canal to be removed, antibacterial treatment applied and sealed. I had no pain or discomfort during the procedure and was regularly asked if I was ok.Although this is the type of treatment nobody would want I was reassured before the appointment in the dentist's ability to undertake this work and that this was the best approach if my tooth is to be saved. I am now keeping my fingers crossed it works so we can avoid an extraction…
I experienced increasing pain over the weekend following an extraction the previous week. I rang for advice, the receptionist - as usual was very helpful - spoke to the dentist, rang me back a few minutes later & I was able to see the dentist & have treatment half an hour later. Everything was explained clearly & I felt I received excellent, caring treatment.
Because I felt that I had the dentist and hygienist's full attention and that they took care to make me feel comfortable.
All was just as it should ideally be: helpful, considerate, constructive, friendly.
Everything - check up and hygiene appointments - was expertly done, as was the advice I received. And a six-monthly appointment was subsequently and easily made.
Marion was aware of my problems , dealt efficiently with them and explained to me how I could best help myself with future maintenance of my oral hygene.Thank you.
Everyone was courteous and very friendly.
My anxiety and apprehension resulting from childhood experiences was fully acknowledged and respected. All options were clearly explained to me and I was supported in a calm and reassuring manner.
seen early , but at ease, no pain
Very efficient. Nice ambience in waiting room, very relaxing. Very polite receptionist, good hygienist and dentist.
all went perfectly smoothly. The question on dental nurse was irrelevant as none was involved
Professional dentist. Nice calm manner and explained anything I needed to know.. Took time to check my teeth and oral health.
Considerate, efficient clinicians and helpful receptionists. Maintained high level of Covid safety standards
We are covered by Denplan insurance and are very glad this covers regular visits to the hygienist. I have seen Chrissie for several years and remain one of her many loyal patients. She coped amazingly with PPE during the pandemic, keeping us safe. Thank you Chrissie.
Dr Brink is a very engaging, reassuring presence and I feel completely confident in her abilities.
It was a positive experience from the moment I arrived. The receptionist was courteous and helpful, and the reception area felt pleasant and calm. Both my appointment with the hygienist and the dentist were on time, and during both appointments everything was explained clearly to me, and any questions I asked were answered clearly and thoroughly. It was very straightforward to book my next appointments, and I received prompt confirmation of them by text and email.
Punctual appointment for hygienist and check up. Both were efficient, thorough and caring
Friendly dentist who made me feel comfortable and to my knowledge did a good job
Kind professional staff throughout the practice The recent changes have made a big improvement.
Went perfectly well, nobody assaulted me and there were no international invasions while I was there
I received expert treatment, immediately it was required (within 24 hours). It was quick, professional and I felt no pain.
All went well . No fuss .
The personal care and knowledge made for orthodontic treatment to feel easy, fully supported and in the best hands
Very friendly helpful & caring
I have been coming to St Annes many over 25 years and am always pleased with the service.
Jane the receptionist was kind and courteous as always, the dental nurse that Adam had was so slick you could see how excellent she is at her job and as for Adam - he's the best dentist I have and it's clear how much he geeks out on getting my teeth straight and healthy. Always a pleasure to visit the team at St Anne's. Keep up the stellar work!
I was slightly worried when Hakan left as I'm slightly phobic about dental treatment. I needn't have worried Adam is incredible too. We're very lucky to have such talented dentists do close!
Excellent staff and service
Pleased a problem was detected and urgent referal made
Very smooth experience, pleasant waiting area, friendly professional staff.
Everything was as I expected, efficient and effective. I did not have to wait beyond my appointment time. The dentist and assistant were freindly and kind.
Everything went well, my dentist was excellent and it was a good appointment.
No waiting. Treatment was as I expected it to be. An efficient service
Efficient expert and friendly staff
Lovely staff, high standards in everything.
It was, always is, friendly, prompt, flexible and competent. Thank you.
the complete experience was faultless.
Already supplied in the questionnaire
Everything happened as it should. The only downside is your searching for praise via this survey. The onsite team all did their jobs well.
I have been a patient at St Annes for nearly 40 years and I have always been more than satisfied with my care
New dentist to me, was really clear about what was proposed and his recommendations. Good 'bedside manner' and I felt very comfortable
Everything ran smoothlyWell looked after
Professional, courteous, competent staff
It was everything I expected a private practice to be.....to put me FIRST
My dentist, Adam Cuthbertson, is a very competent and friendly dentist. He always explains in details the different options available and often hands me a mirror so that he can show exactly what's going to be done and why. He is friendly and courteous, as is all of the team at St Anne's Dental Clinic. By far the best dentist I have been to so far and I have been to quite a few, in the UK and abroad.
Adam and his dental nurse are calm and helpful during treatment.I am particularly pleased by the way that Adam keeps in touch to ensure that you are ok.
Explained fully options, what was going on, my wellbeing and quality of care
Excellent care and expertise
Always friendly and extremely helpful regarding my on going health
Dentist friendly, listened to concerns (of the moment i.e. not lying flat) and re state of my teeth. Gave options with costs.Took x-rays which I was able to see. Gave explanation.Good as it could be!
Very well explained, very little pain, very competent staff
Very friendly and courteous attention throughout. Skilled and professional treatment from dentist., who took a lot of time to save my tooth rather than extract it. I have a beautiful new crown when I might have been looking at a dental plate or beginning the process of getting an implant. Many thanks again Adam!
not much to add - have answered relevant questions.
Check up and cleaning done efficiently and politely.
Everyone is very understanding and caring, really do put the patient first, always allow time and I never feel rushed. Always made to feel at ease and thoroughly supported throughout the whole appointment. The service provided is excellent, they are an amazing team
Very friendly, knowledgeable and caring hygenist
Problem quickly identified, treatment required rapidly decided upon, appointment made and clinician came in on his day off. Treatment was quick, thorough, as comfortable as it could have been and virtually painless.
I was an emergency patient. All Staff were helpful and kind. The dentist was excellent and gave options. All round good experience. One doesn't say that too often!
Everyone is very helpful you are not rushed and they listen to you
Appointment was on time, very happy with all that was explained and carried out, very pleasant which is why I come to St. Anne's
Quick, friendly, professional and easy
Everything was explained clearly. I was given options and choices